Shopping Cart
Your Cart is Empty
There was an error with PayPal
Click here to try again
Thank you for your business!
You should be receiving an order confirmation from Paypal shortly.
Exit Shopping Cart
NY House Painters, Pressure Washing, Deck Restoration & Staining
Kellogg's Painting 518.965.0720
Quality Painting Since 2007
Call Now For Your Free In Home Consulation
Kellogg's Painting Blog - Leeds, NY 12451 Painters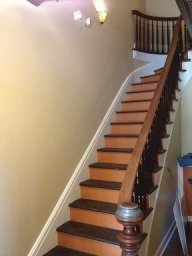 The house painters at Kellogg's Painting Company did a great job painting this Hudson, NY stair case and stair well. 
Kellogg's Painting was the painting contractor contracted to paint the interior of this remolded Hudson building. The stairs are original to the building. Our team of painters painted the stair stringers, stair risers, walls and ceilings in this stair well. 
The building is three stories and this photo is on the first floor. 
If you are looking for an interior painting contractor in the Hudson, NY area call Kellogg's Painting today 518.965.0720. Visit our website to learn more about our painting services, painters and why we are the premier painting company in areas of the Hudson Valley and Catskills New York. 
Written by Adam Coholan, an active blogger, remodeling, renovation, and interior design based on his experience working with
luxury Fire Island real estate
around the New York area. You can follow him on Twitter @Coho22.
A remodel project or new furniture will certainly transform your space but can be very costly, but you can still transform your living space without spending a small fortune. The fastest and easiest way to freshen up a room and make it feel updated is to give it a fresh coat of paint. There's no need to buy expensive tools or invest a great deal of time into the project. With a little bit of planning and the help of a professional painter, you can turn any boring room in your home into something marvelous.

The first step is deciding how you want the room to feel. Some colors, like blues and greens, are more relaxing and will encourage people to sit down,relax and kick their feet up. Other colors, like vibrant yellows and bright shades will create an upbeat feel. There is no right or wrong decision. The only thing that matters is that you find a color that feels great and makes you want to spend time in the room.

When choosing the right color, keep in mind that it will look different in your room at home than it does on the paint chip in the store. Your home has different lighting, ant the surroundings and accents are also different. What looks like the perfect match under bright fluorescent lights could be garish in your softer lighting at home. Pick up a few bottles of sample paint and have them tinted to the colors you are considering. You can then paint an area on the wall at home. This way you can see how the paint will look in different lightings and decide whether it really is the perfect fit.

The final decision is to choose the type of paint you will use. This is based on more than simply personal preference. You should also take into account the room it's going in, how dirty it will get and how well it should handle being cleaned. As a general rule of thumb, you can simply remember that as paint takes on a more reflective surface it becomes more durable and better able to withstand the effects of moisture and cleaning.

Flat paint has no reflective quality and will provide a muted finish. It will also wipe off relatively easily when you try to clean it, so it's not a good choice for kitchens, bathrooms or high traffic areas. Gloss paint has a high shine to it and can be scrubbed thoroughly. This makes it the perfect choice for trim work, doors and other areas that will be prone to fingerprints or dust. When painting the bedrooms, living rooms and other areas, a good compromise would be satin or semi-gloss paint. They can both be scrubbed butaren't as shiny as a regular gloss paint.

There is no limit to the transformation you can create with a new coat of paint.You can easily change the look and feel of your space, create visual borders or add drama and dimension. Choose your paint color carefully and give some thought to the type of paint for a finished product that you will be thrilled with and proud of.
When choosing paint colors to paint your house or office it can be a daunting task. There are 3 general groups of paint schemes:
Monochromatic schemes are based on one hue, which varies in value (lightness and darkness), and saturation (the amount of color). An example of this is a pale blue with a pure blue and dark blue. 
Analogous schemes combine no more than three similar colors. An example of this is red, yellow red (orange), and yellow. 
Complementary schemes are based on opposing colors. This scheme offers more contrast and can introduce both warm and cool colors into the area. An example would be the burgundy complementing the three shades of green in your front door
Find an existing dominant color that you like or wish to keep, in the room or on the house. On an exterior, this could be the color of the brick or stone, pre-finished windows, or roof. For an interior, it could be the color of your sofa, flooring, art work, or window coverings.
Determine what kind of feeling you wish to have in the room or on the home. Warm colors such as red, orange, yellow, or beige, can create an invigorating mood or add cozy intimacy to large spaces. They can help to warm up a room that has northern or eastern exposure. Blues, greens, violets, or grays, the cool colors, give a serene feeling and can add spaciousness to small spaces. The balance between light colors and deep colors should be considered.
Look for interesting architectural details, that can be accented color.
Drive through various neighborhoods to see color in action. Make note of appealing color schemes.
Define the entry way and window trim
A charcoal gray shingle may have flecks of gray-green or gray-blue that can be incorporated into the color scheme.
Black lends itself to sophistication and excitement in any decor. use it on the trim in an entry way.
Make a small room look large with a medium shade on the ceiling.
Pastel shades are not just for walls and trim.
Neutral colors like grays, create a classic look with a modern feel.
Paint just one wall, accent it
The least expensive house painter that you can find or DIY may not be the best value and safest way to have the interior of your house painted. when making the decision to paint your homes interior going with the local handyman or hiring a

professional house painting contractor

there are a few things that you should keep in mind.

 1) Safety comes to my mind first and that should be the most important factor for you and your family. Painting can be hazardous work, whether it's working on a ladder or dealing with solvents and dust. Hiring a professional contractor means that you can have piece of mind. If your home or business was built before 1978, chances are it contains lead-based paint, which can cause serious health effects when it is scraped or sanded in preparation for repainting. Painters and anyone whom will be disturbing the paint are required by federal law to be an

EPA Certified Firm

 and have a certified renovator. A lead certified painting company will take the appropriate steps to protect you, your family, and their painters from the dangers of lead.

 


2) Proper preparation and quality paint will give you a long lasting paint job. Preparing the surfaces properly makes all the difference. A Professional Painting Contractor knows the value of preparation and will do it right.The choices today are more complicated than just oil or latex base coatings and professional house painters know what works, how to use it, and will have the right tools for the job.

3) Hiring a professional painting company means you don't have to worry about dealing with paint residues and other leftovers. Professionals will know how to handle any hazardous wastes and any other materials that are left over. They will clean up your home at the end of the project and leave your house looking as if they where never there.

4) Always verify the contractor is licensed and insured. Quality contracting firms will be only too happy to provide you with copies of their certificates of insurance. Not all states and municipalities require licensing however business registration with your state and municipality is generally a minimum requirement.

5) A reputable painting contractor will encourage the use of a written contract. This contract should clearly explain the scope of the work to be performed. It should also cover such items as surfaces to be painted, methods and extent of surface preparation, time schedules for the project, and payment procedures. Knowing the total scope of the work enables you to carefully evaluate the different bids you may receive with the proper information and keep them on a level playing field. The contract serves to protect both you and the contractor.

6) Obtain a list of

references

from the prospective contractor. This list should include the contact person, address, and telephone number of the previous client. Follow up on this list with a phone call. Be sure to ask whether the contractor and employees treated you professionally and with respect. If possible, try to see the work that was done.

 


7) Discuss any guarantee or warranty programs the contractor may offer. Ask about the manufacturer's warranty on the products to be used on your project. Remember you are looking for long-term durability from the paint job. The use of high quality products is as important as the selection and performance of the contractor. Verifying references will provide a return on your project investment.

 





 


 


 


 


Larger Signature Area:

Most forums of many topics, have a limit of characters in the signature. This is where targeted keywords can be hyper linked, helping that website or blog ranking higher in the search engines for that particular keyword or phrase. As a result of normally keeping a character limit to a minimum of 200-250 characters, many forums consider more than 3 text links spam. I don't agree with this low number, as most top web sites have close to 10 keywords in html meta content, allowing most search engines know what they wish to rank for. In the Painting Forum, a 600 character limit, with a maximum of 10 keywords is acceptable, helping all those who join.

Blog Thread: Many Other Painting Related Fields:

Helping those who have painting questions, the Painting Forum is the place to be, always sharing painting ideas.

 

 

Think Paint. A good first impression helps sell your home

It can't be overstated—when it comes to buying a house, the first impression is everything. If you're selling or
 getting ready to sell in the coming months, one of the easiest and most dramatic ways to enhance that first impression is through paint.

Fresh paint makes your house look clean, bright, and inviting.
"Painting your house's exterior before you put it on the market give the biggest bang for your fix-up buck—if you use colors that conform with your neighborhood's decorating norm," says Eric Tyson and Ray Brown in their book "House Selling for Dummies (Hungry Minds Inc., 1999).
Agents agree that sellers shouldn't take curb appeal lightly, especially when so many buyers are doing their homework and looking at the exterior of houses before they even contact an agent.

"Curb appeal is crucial," said Mary Sheridan, an agent in Silver Spring, Md. "Buyers get a lot of information from the web now and I find that often they have already driven around with a list of addresses and have decided which ones they want to see, giving curb appeal a lot of weight."

If nothing else, paint at least the door, door frame, and foyer or first room the would-be buyers will see.

Paint railings, window frames, trim, and other accents to freshen up the exterior.

Homeowners and buyers place a high value on the painted appearance of a home. Include the date the paint job was completed and the quality of paint that was used.

You can easily paint wood, brick, masonry, aluminum or vynal siding.

The fixed colors—roof color, wood, masonry, and stone.
The surroundings—houses and other buildings in the neighborhood.

And if you don't to paint the whole house, consider an eye-popper like the front door.

"It is very important to have a home looking its best and that starts as soon as a buyer drives up to the home," said Paul Thury, a Connecticut Realtor. "One important tip is to paint the front door if you cannot paint the whole house. This brings a good feeling as you enter the house."
Another important tip is to get all your painting done before potential buyers view the house.

"It is important to have all the repairs and paint done before going on the market," said Julie Nelson, a real estate consultant in Austin, Texas. "You need that bam experience on day one on the market. Anything less than bam and you're just helping the other homes in the neighborhood sell first."





Are you looking for a cozy, intimate space? Use soft, snuggly upholstered pieces, dark, warm tones, and dramatic lighting, turning a small corner space into a  wonderful private space.
Making a small space feel larger without serious renovations, some decorating changes, using color, furniture arranging, and interesting lighting, your space will feel larger.

Remove Clutter (organize):
To much stuff makes a small space feel even smaller. Once things are arranged and out of sight, the space will feel organized and open.


Move furniture out and away from walkways, you'll open up the space and make it feel larger. You can also choose short pieces of furniture like an ottoman, an armless, open chair, or a low table, and place large, tall pieces along a wall rather than out in the open space. If you can see the floor, the room will look larger.

Use Light Hues To Paint:
Dark, warm colors make a space feel cozy and intimate, light, cool colors make a space feel more open. Select soft tones of blues and greens.

Use a Monochromatic Color Scheme:
When selecting colors, use colors that are in the same color family, textured wall finishes, delicate tonal drapery fabrics. Cool colors and delicate warm colors on most surfaces give the room a larger apperance.
Coordinate Wall and Furniture Colors:
Contrasting colors tend to break up a space. Pieces of furniture are less interrupting and tend to blend with the space if they're colored to match the wall color.

Let in the Light:
Any room will look larger if it's lit well, either by natural light or artificial lighting. Remove heavy draperies and open up the windows to let the light of the outdoors into the space. Use more lamps or install track lighting or recessed lighting.



Monochromatic schemes are based on one hue, which varies in value (lightness and darkness), and saturation (the amount of color). An example of this is a pale blue with a pure blue and dark blue.


Analogous schemes combine no more than three similar colors. An example of this is red, yellow red (orange), and yellow.


Complementary schemes are based on opposing colors. This scheme offers more contrast and can introduce both warm and cool colors into the area. An example would be the burgundy complementing the three shades of green in your front door

Find an existing dominant color that you like or wish to keep, in the room or on the house. On an exterior, this could be the color of the brick or stone, pre-finished windows, or roof. For an interior, it could be the color of your sofa, flooring, art work, or window coverings.
Determine what kind of feeling you wish to have in the room or on the home. Warm colors such as red, oarnge, yellow, or beige, can create an invigorating mood or add cozy intimacy to large spaces. They can help to warm up a room that has northern or eastern exposure. Blues, greens, violets, or grays, the cool colors, give a serene feeling and can add spaciousness to small spaces. The balance between light colors and deep colors should be considered.


0

/